Understand expectations and uses
Directing your innovation efforts to your clients' real needs.
Testing existing services and concepts.
Identifying workable alternative options quickly.
Understanding competitors' strengths and weaknesses.
Observing your clients in real settings… and their real problems.
Developing a culture based on empathy with experience KPIs.
Exploring current trends and understanding emerging usage patterns.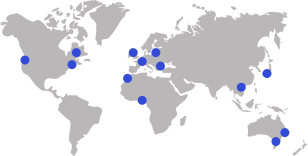 International User research
& user testing
A signle team to manage your research needs worldwide. We run studies and user test sessions all over the world with our great network of researchers.
Test interfaces and optimize paths with UX - CX studies
Quickly assess the receptivity to your concepts


Test your services, existing or on prototypes


Understand and evaluate customer journey


Quickly evaluate and compare your biases, messages and visual


Identify quick fixes and deep optimizations of the experience

Nurturing human-centered corporate cultures
We use mixed-methods (quantitative and qualitative) to help you zero-in on the most adapted solutions.
Test and Learn methodology
Personas and customer journey
Get a quote
"How do smartphones affect our clients' journeys online and offline?"
See the case Carrefour
"We would like to see how our clients adopt our new booking system before launching dev."
"How to restore trust upstream of our subscription funnel?"
"Our creative choices look beautiful. But are they on-target? Aren't they a little too disruptive for our clients?"
"Our services are very competitive. Yet, they're a hard sell. How can we change that?"
"We've built great digital services. However, salespersons don't use them in our stores. Why?"
See the case Orange
"How can we have the voice of the customer heard in executive boardroom meetings?"